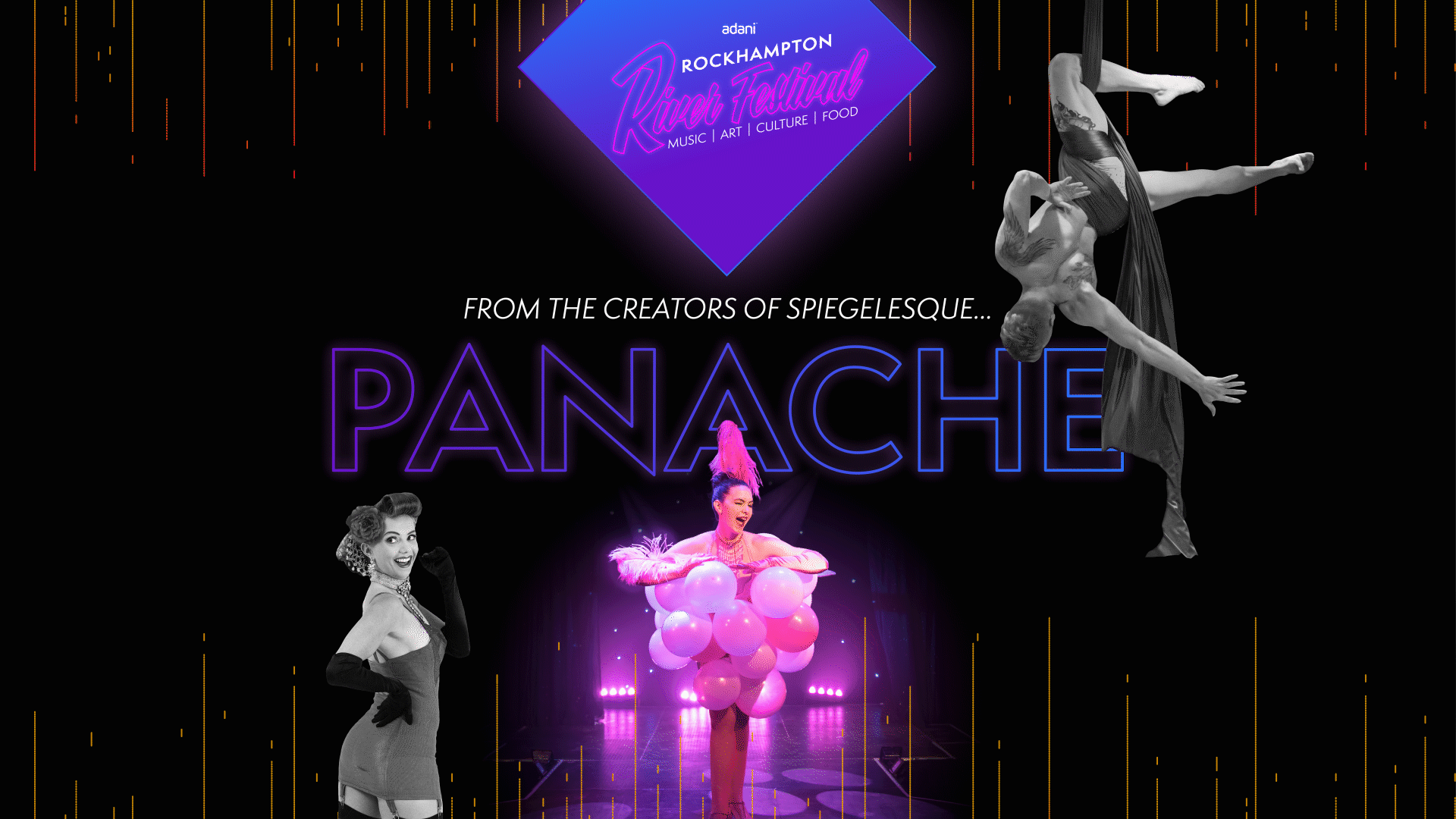 Rockhampton's iconic River Festival is just around the corner and is set to see the return of one of the Festival's greatest highlights to date.
From 12 – 14 July, the 2019 Adani Rockhampton River Festival will see the team that brought the smash hit 'Spiegelesque' back in town by popular demand with a brand new show – PANACHE!
Proudly sponsored by CQUniversity, Panache will feature the talented cabaret and musical theatre star, Wayne Scott Kermond, in the stunning Customs House where audiences will be immersed in an eclectic atmosphere with ushers and cast evoking ghosts from a bygone era.
Rockhampton Region Mayor Margaret Strelow said Council is thrilled to announce the return of the Kermonds after their show in the famous Spiegeltent was a sell-out in 2017.
"Spiegelesque was a huge hit in 2017 so we are excited to have the Kermonds bring their new show, Panache, to this year's River Festival as the headline act," Mayor Strelow said.
"In past years we have had a mermaid, a luminarium, one of the world's only double decker carousels and the Spiegeltent which have all been major highlights. This year, I have no doubt that Panache will be another unforgettable experience that continues to make our Festival one of Regional Queensland's greatest."
With so much Rockhampton history embedded in Customs House venue itself, it is an opportunity for the Kermonds and their team to delve deeper into the amusing and interesting episodes of our city's past. With tales of ghosts, mysterious murders and more, the new show will have a uniquely Rockhampton flavour that fits perfectly with the festival's theme this year - Voice: Our Rockhampton Story.
Creator and Director of Spiegelesque, Wayne Kermond, said this year's show will include the same ingredients audiences loved last time, but with all new and exciting performances.
"I'm so excited about performing this pop-up cabaret. The intimate venue of Customs House is perfect for this show," Mr Kermond said.
"We really wanted to capture the sometimes quirky history that Rockhampton has and put it into our show. You never know what might happen, so watch out Rockhampton, here we come!"
Kim Harrington Associate Vice-Chancellor Rockhampton region said CQUniversity is pleased to sponsor Rockhampton River Festival again this year.
"The festival is a fantastic community event and we are excited to sponsor the headline show, as part of our sponsorship package," Ms Harrington said.
Panache will be in Rockhampton from the opening night on 12 July and will have an extended run until Saturday 20 July. For more information on show times and to book tickets, click here.
The 2019 Adani Rockhampton River Festival will once again be held along the Riverside precinct from Derby Street to Archer Street and flow into the city's laneways. Stay tuned for further updates on the 2019 Adani Rockhampton River Festival as more exciting events are announced over coming weeks.
The 2019 Adani Rockhampton River Festival is proudly sponsored by Rockhampton Regional Council, Adani, and Tourism and Events Queensland. Panache, the headline show at the Festival, is proudly sponsored by CQUniversity.